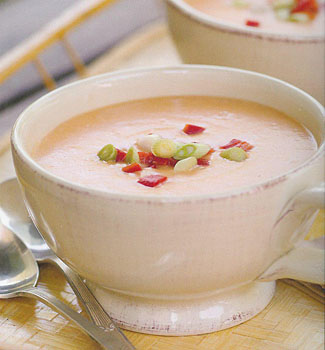 Recipe created by FabFood on

Jan 5, 2008
View more recipes by FabFood.
Prep: –
Cook Time: –
Total: –
Serving: –
Recipe for Roasted Red Pepper, Leek, and Potato Cream Soup. This silky-smooth cream soup derives its thickness and most of its texture from potatoes rather than roux.
Ingredients
2 red peppers
4 tablespoons unsalted butter
3 cups diced leeks (white and light green parts)
8 cups peeled, diced potatoes
6 cups chicken stock
1 sprig thyme, or 1/2 teaspoon dried enclosed in a large tea ball or tied in a cheesecloth pouch
1 cup heavy cream or half and half, heated
salt and pepper as needed
1/2 cup finely diced scallion greens or chives
Directions
1. Preheat the broiler. Place the red peppers under the broiler and turn as they roast so that they blacken evenly on all sides. Put the peppers in a small bowl and cover. Let the peppers steam for 10 minutes, then remove them from the bowl and pull off the skin. Use the back of a knife to scrape off any bits of skin that don't come away easily. Remove the seeds, ribs, and stems from the peppers. Chop the flesh coarsely.
2. Melt the butter in a soup pot over medium heat. Add the roasted peppers and leeks. Stir them in the butter to coat well.Reduce the heat to low and cook, covered, until the leeks are softened and translucent, about 5 minutes.
3. Add the potatoes, stock, and thyme. Bring to a simmer and cook, partially covered, until the potatoes are soft enough to ash, 25 to 30 minutes. During cooking, skim away and discard any foam that rises to the surface. Keep the liquid level constant by additional stock if necessary.
4. Remove the pot from the heat, remove and discard the thyme, and let the soup cool for at least 10 minutes before pureeing with a hand held (immersion) blender. Strain the soup through a sieve and reserve the liquid if you are using a countertop blender or food processor. Add the solids to the blender or food processor bowl; do not over fill. Add a little of the liquid, replace the cover, (without the vent from the lid or feed tube), and puree until smooth. Add more liquid if necessary to help puree the solids. Transfer the pureed soup to a clean pot. Continue to puree until all of the solids are pureed. Blend the soup and adjust the consistency by adding some of the reserved liquid. (The soup is ready to finish now or it can be cooled and stored up to 3 days in the refrigerator or up to 1 month in the freezer.)
5. Bring the soup back to a simmer over medium heat and add the heated cream. Season to taste with salt and pepper. Serve in heated bowls, garnished with scallions or chives.