Emergency Survival Skills - Making a Solar Still to Get Drinking Water. Learn how to get clean drinking water in case of emergencies or wilderness catastrophes.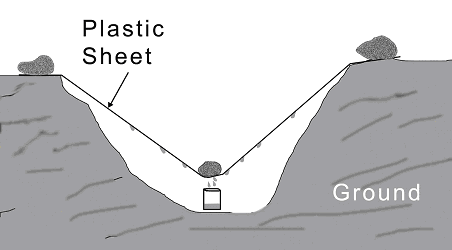 Even in an emergency, you never want to drink salt water or urine. But you can distill these liquids, or get water from moist ground and cut vegetation, by using a solar still.
Dig a hole in the ground, preferably in moist ground, where the sun will shine. You can place cut vegetation, urine or salt water in the hole as well. Place a cup or bowl in the middle of the hole. Then, cover the hole with a piece of plastic, weighted in the middle over the container. As the sun evaporates the moisture in the hole, distilled water will condense on the plastic and run down into the container.
Robert C. Etheredge is the editor of The Camper's Companion: Tips & Tales for the Trail, a wonderful book that should be in the library of every camper and outdoor enthusiast. Luckily it's small and light enough to fit in any backpack.


Click here for more great recipes and information about The Camper's Companion: Tips and Tales for the Trail and discount ordering through Amazon.com