Making a Turducken with Sammy and Trey Herbert. A stuffed chicken in a stuffed duck in a stuffed turkey. Learn how this classic tailgate dish is made from the experts in Maurice, LA.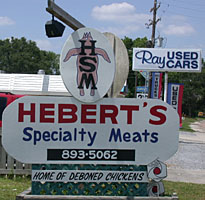 (NOTE: This article spans 4 pages, click the next page link at the end of this page for more.)
MAURICE, LOUISIANA, USA -- The sign outside the unassuming little butcher shop on an anonymous looking stretch of highway in Maurice, Louisiana gives a big hint to the culinary magic performed inside -- deboned chicken.
It's not the latest fast food marketing trend whereby an industrial factory produces -- by questionable means --something vaguely resembling the food in question -- in this case chicken -- to fit on a bun. This is the real thing -- an actual whole chicken, completely devoid of bones.
If you've ever tried to eat, say, fried chicken with a fork and knife, you can appreciate what a death defying feat removing all the bones from a raw chicken would be. Yet the folks at Hebert's Specialty Meats have it down to such a science, they can do the job in less than a minute.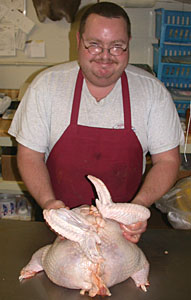 Truly the speed with which these talented meat specialists handle a boning knife and bird is dizzying. Nowhere is this skill more apparent than when preparing a turducken -- a popular Cajun dish and Southern tailgate party staple.
A Whole Lotta Stuff
Literally a stuffed turkey, stuffed with a stuffed duck, stuffed with a stuffed chicken -- that's a lot of stuff. This Cajun specialty came to national attention (and gets an annual publicity push) via football announcer John Madden's affinity for the dish. His efforts have inspired ambitious tailgaters all over the country to prepare turduckens at their truckside feasts.
But the elaborate entree originated at this small Maurice, Louisiana butcher shop -- at least the modern version as we know it.
Owner Sammy Hebert says that back in 1985, a customer came in with his own turkey, duck and chicken in tow, and asked Herbert's to prepare them in the now familiar style. The rest, says Sammy, is history. In 2005, Herbert's produced over 12,000 turduckens between Thanksgiving and Christmas and they expect that number to keep growing as the Turducken's popularity reaches mainstream America.
Cajun cooking expertt  Marcelle Bienvenu (see related links below) theorizes, however, that some version of the turducken dates back much further than Herbert's in the mid eighties. She has personally found recipes going back to the 1800s but speculates that dishes like turducken were around in medieval times, when they pretty much stuffed everything.
To Make or Order?
Most people don't go through the trouble of making their own turduckens. For someone untrained, the process is both time consuming and dangerous -- it's easy to slice fingers in the process of deboning the birds.
You can still cook turducken without actually having to debone the birds yourself. Places like Herbert's mail order all over the country, so no matter where you live, you can still enjoy an authentic Cajun Country Turducken.
But should you decide to give making a turducken a go, Sammy Hebert graciously agreed to show us how it's done. Even if you have no intention of giving it a go yourself, it's still interesting to see how the feat is accomplished.
The photo tutorials will give all the details (links below article)

Page 2 -- How to Debone the Turkey, Duck and Chicken
Page 3 -- How to Stuff and Assemble the Turducken
Page 4 -- How to Cook the Turducken
Practicalities
Should you wish to visit Herbert's you can find them at 8212 Maurice Avenue in Maurice, LA 70555; (337) 893-5062 or click to www.hebertsmeats.com to order a turducken already prepared for you.