A Conversation with Chef and Author Betty Fussell, Editor Cheri Sicard spoke with Betty after she published her fabulous memoir, My Kitchen Wars.
Like many another hard-core foodie, Betty Fussell came to the food world by devious routes. A PhD in English Literature, years of teaching Shakespeare and assorted classics, a passion for movies and movie history, some prime time acting in plays and musical comedies, decades of travel through foreign countries, raising two children, hundreds of cats, and an ex-husband---none of these seems particularly suitable for writing about food. But in fact her love of the world's diversity found a focus when she put together her typewriter with her stove.
Fussell is a writer who is also a home cook, one who loves the sensuousness of words as much as the sensuality of foods. As a writer, she sees food as a window into the culture, past and present, of America. As an historian, she sees any meal as a way of eating history on the plate. As a cook, she likes recipes that are simple, improvisatory, fresh, and tasty, something anyone could do with no more than a sharp knife and a skillet and a few good fresh ingredients. Her many cookbooks reflect these interests, from her first Masters of American Cookery (1984) to her most recent Home Bistro (1997). She is best known for I Hear America Cooking (1986 and 1997) and for the epic history of the New World's native grain, The Story of Corn (1992), for which she won International Association of Culinary Professional's Jane Grigson Award.
A long-time journalist of food and travel, her articles have appeared in publications like The New York Times, The Los Angeles Times, Holiday, Travel and Leisure, Cosmopolitan, Food Arts, Wine and Food, Bon Appetit, Cooking Light, Ladies Home Journal, Lear's, Country Journal and Vogue. A frequent performer on television, she is also a regular on the lecture platform at places as diverse as the Art Museum of Princeton University and the Dutch Treat Club of New York, with way stops at food organization conferences, marketplace demos, historical fêtes, restaurant dinners---wherever good food is eaten and people want to talk about it.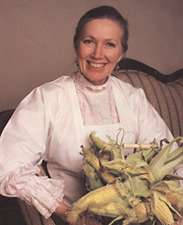 Cheri Sicard: I guess a good place to start this conversation is with corn. It seems like you're most known for your book The Story of Corn, which is, to say the least, an in-depth study. What inspired you to take up this subject?
Betty Fussell: The subject, which I took up earlier, was the question: is there anything that could be called American cuisine? Out of that came the book I Hear America Cooking. I ran around the country looking for regional differences, in the course of which I discovered that the one major food that united all the regions was corn. Since I had left out the Midwest, the heart of corn country, in the first book, because I was looking for immigrant cooking, I decided I had better center next on what was native. That's why it ended up being a book about Native America.
Cheri Sicard: That's interesting. On my recent trip to Japan, I had your book with me.
Betty Fussell: You lugged that heavy thing on an airplane to Japan?
"People who are not of my generation, who are younger, have no idea how isolated America was before World War II. After the War, we just exploded into Europe and everything was new and surprising. Since France was the traditional center of food, French food was a great surprise."
Cheri Sicard: Yes, and it was well worth it. Some of the Japanese people I was working with saw me reading The Story of Corn and they were curious about why there was such a big book about corn. I told them it was because corn was the basis of American cuisine. They said, "There is no American cuisine, American cuisine is just hamburgers and steaks." That's all it was to them.
Betty Fussell: Europe thinks the same way. Those places feel that they have a continuous history and therefore the only thing that can be defined as history is that which is continuous. But we are the opposite. It's two different languages.