Interview with chef Alain Giraud . Editor Cheri Sicard sat down for an informal conversation with the Provencal chef back when he was at the helm of Santa Monica's Lavande restaurant.
Fabulous Foods editor Cheri Sicard spoke to chef Alain Giraud back when he was at Lavande Restaurant, located in the Loews Santa Monica Beach Hotel. Lavande is a wonderful restaurant specializing in the foods of Provence, food known intimately well by its then star chef and director.
Giraud had a very hands on part in every facet of Lavande, from the menu all the way down to the decor. He wanted to evoke the Provence of his childhood. The casual, yet elegant dining room is decorated with vintage provencal pottery, the scent of lavender gently wafts through the air and the food is superb. Giraud says it came naturally, for California and Provence have a lot in common.
Alain Giraud had 17 years of culinary experience and numerous awards behind him when he first came to America in 1988. He began his career here as a private chef, but he quickly joined Michel Richard at L.A.'s famed Citrus Restaurant. While that was a wonderful experience, the challenge of creating his own restaurant was too inviting, and hence, Lavande was born in January of 1998.
Giraud is an animated man who exudes charm, personality and energy! This last is crucial for the hours he puts in at Lavande. The night I stayed at Loews, we said our good nights at well past midnight. When I ventured down to the lobby early the next morning, Giraud was already there, busy at work.
His energy and enthusiasm make him an easy subject to interview. He speaks with a heavy French accent that is incredibly charming, frequently going off on long, albeit interesting, tangents (as you'll see below). Ruggedly handsome, his eyes have a constant twinkle, the smile on his face often turns into a big wide grin when he's talking about something he loves and he has a little boy charm that's impossible to resist. Giraud is the type of person that most people take an instant liking to.
After our interview, as I watched him walking away, talking animatedly to one of his assistants, I was left with the impression that here was a true renaissance man. A person who could do just about anything he put his mind to and have fun while doing it.
---
Cheri Sicard - Alain, you're obviously French and you were trained in France. How traditional is your cooking, how much do you "play with the classics"?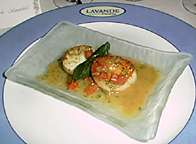 Alain Giraud - Whew! Oh, this is a very tricky, tough question here. I think the way I like to cook, I find inspiration in the classics, because it's like a type of art, if you don't have a classic base, then you lack foundation.
My cooking is partly classic. The cooking here is Provencal, which is not just a way of cooking, it's a way of life. I don't use cream, but that's not classic for a French chef. I serve an average of 150 people, but use only 1 quart of cream for the entire day! It's for the mashed potatoes, because it's really difficult to make them with olive oil. That is not really classic.
I do a veal daube, you have to cook it slowly in the oven with a nice amount of liquid, to make my own interpretation, I change it a bit. I don't use a piece of beef, I use a cheek of the beef. On the foundation I use glazed baby carrots and spring onions and olives. The combination is still classic but the foundation is more modern and lighter on the palate. When I do a fish soup, I stay close to the classic recipe.
But I don't want to name my cooking classic, my cooking is Provence style, done in Los Angeles in 1998! I have a lot of sources for cooking and ingredients. There's a wonderful farmer's market in Santa Monica and I have a garden. I have people to help me with cooking from Guatemala, from Salvador, from all over South America, from all over the world really, and you learn a lot from these people. I was trained in a very, very classic restaurant, with classic rules. I learned a lot. When I see a young chef coming to work without any classic base, I try to teach him a few classic rules. After that, you can do whatever you want, but you need that base.